MODERNERA PLAY-BY-PLAY LEGEND by modernerabaseball.com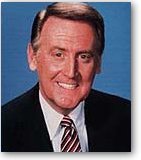 Never been one to listen to the ballgame while at the yard? Well, make an exception for a legend. I grant your subconscious permission.
After after, Vin Scully can't keep doing Dodgers play-by-plan forever. I mean, it's only been, what, 50 years?
Arguably the greatest play-by-play announcer to ever live, Vin Scully IS the Dodgers. For more than a half century, his eloquent voice and vocabulary has entertained baseball fans across the world.
"It has been my life you know," Scully said. "I still get goose bumps, you know. I try the best as I can to call whatever it is as quickly and accurately as possible and then shut up and get out of the way. I have always been – since a small child – a fan of the roar of the crowd. And I can sit there and the crowd is screaming and I'm just covered with goose bumps. I just love it."
It's been quite a ride for Scully, who joined Hall of Fame announcer Red Barber and Connie Desmond as part of the Brooklyn Dodgers' broadcast team in 1950, just one year after graduating from Fordham University in the Bronx.
With 53 years of broadcasting to his belt, it's hard to answer the question: "What are your three greatest broadcasting moments?"
"I mean there have been, I mean, you just can't count when you've been around a long time," Scully tried to explain. "I have one feeling and that's thank God. That's my overwhelming feeling: gratitude, thanksgiving. I really don't try to take pride. I really try to realize that whatever I have is God-given and I could lose it – like that – in one second."
The humble Hall of Fame play-by-play man, voted "Sportscaster of the 20th Century," said one of his top three memorable moments came just one year after he entered the broadcast booth with the Dodgers.
"I wasn't on the air but Bobby Thomson's home run in 1951 is probably the most remembered home run for such a long period of time. That was really big. Luckily, I didn't have to get involved with that one!" Scully quipped. "Thank goodness Red Barber was broadcasting and I was standing behind him!"
Thomson's dramatic "shot heard 'round the world" three-run homer on October 3 of that year of course lifted the New York Giants to the National League pennant over the Brooklyn Dodgers.
"But there are an awful lot of individual performances," Scully commented. "Sandy Koufax's perfect game, (Koufax's) four no-hitters, (Don) Drysdale's and Orel Hershiser's string of zeroes. I mean, there have just (been) a ton."
"I mean Don Larsen pitched a perfect game in the World Series (in Game 5 of the 1956 World Series) – it can't get any better than that!" Scully continued. "You talk about a no-hitter, that's great. You talk about a perfect game, that's incredible. Then make it a perfect game in the World Series, I mean that had to be memorable, especially (because) he was a fellow who was at the end of his career and never considered a great force. I mean he was a pretty good pitcher. It wasn't one moment, it was the whole game, but in retrospect looking back that was a big surprise, you know."
All told, Scully has called 18 no-hitters and two other perfect games, Koufax in 1965 and Denny Martinez 26 years later, in 1991. In addition to Drysdale's 58.2 scoreless innings streak in 1968 and Hershiser's 59 scoreless innings run in 1988, the legendary play-by-play man also was at the mike for Henry Aaron's 715th career home run that broke Babe Ruth's major league record. He has also called 25 World Series and 12 All-Star Games.
So with all these incredible memories and milestones, what are Scully's two other most memorable moments? "The big ones," as he likes to call them?
"In 1955 when Johnny Podres beat the Yankees in the World Series and it turned out to be the first and only Brooklyn Dodgers championship, that was memorable because I understood the frustration of the team," Scully answered in describing his second of three most memorable moments. "It was monumental in the Borough of Brooklyn. I mean, it clearly was."
Podres' shutout of the Bronx Bombers in Game 7 of the 1955 Fall Classic was truly original. So too was an incredibly dramatic event some 33 years later on the other side of the U.S. in Los Angeles, California.
The setting: Dodger Stadium.
"Kirk Gibson's home run in the World Series in 1988," Scully said of his third of top three most memorable moments. "The Gibson one was voted as the most memorable moment - and the key word is memomrable - in the history of Southern California sports. That has to be in there."
Limping from the dugout to the batter's box, Gibson's home run off of Oakland reliever Dennis Eckersley sent goose bumps down the spine of Scully as did another moment in the World Series just two years earlier.
"The (Bill) Buckner thing (error). I think my reaction - just like most - was just shock," Scully explained. "You know it was pretty much of a routine ground ball. It probably bothered him because it was near the (first base) bag. Sometimes ground balls – guys all of the sudden are afraid it's going to hit the bag but I don't know what happened to him. But it was just like, shock. I couldn't believe it."
Buckner's grave and costly error was painful for Red Sox fans like myself to watch, considering Boston was just one out away from capturing its first World Series since hell froze over (Chowdaheads like myself are still in denial to note the EXACT LENGTH of depravity since the Sox last won a World Series).
But there are pains that broadcasters like Scully face as well. They are pains that are often overlooked.
"I do suffer the pains that most of us in this business suffer from which is away from your home, your wife and family," Scully explained. "That's hard, it's hard all the time. But at the same time the job has helped the children and will help the grandchildren. But it's a tough thing to sacrifice for a wife to have a husband in this business who's traveling a couple of months a year. What I don't like is being away, the travelling. But what are you going to do?"
"What I have done – now, especially - is giving up all the other things," Scully continued. "So I don't do football, I don't do golf, I don't do shows – nothing (like that). I do the Dodgers from March to the end of September so the rest of the time I devote to my wife and grandchildren."
And Dodger fans – and baseball fans – are thrilled Scully hasn't retired from the game he loves. Last year the Dodgers and Diamondbacks played a contest in Phoenix in which Kevin Brown and Curt Schilling engaged in an old-fashioned pitchers' duel.
"You know I was just thrilled to see it," Scully said of the Brown-Schilling match. "It was like the first game I ever saw. I just loved it."
As our interview came to a close, Scully continued to listen attentively, decked in his Dodger blue sport coat. Unlike most play-by-play men, Scully is dressed to the hilt for each and every game. Polished shoes, dress slacks, tie. And, of course, not a single hair out of place. Not one.
Perfect game?
Ha!
Try perfect play-by-play man.
For 53 years.
And counting.
"Thanks so much," I said to the legend as the interviewed concluded.
"Your very welcome," Scully replied.
"I appreciate it," I added.
"Good luck to you," the legend responded.
"It's been great listening to you," I added again.
"Oh, thank you so much," the great one replied, humbly.
No, thank you, Vin.
Copyright 2002