MODERNERA TONY by modernerabaseball.com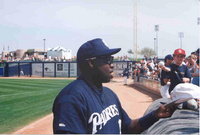 When Tony Gwynn decided to hang it up for good at season's end, he not only left his bat – but also his mouth.
You see, unless Gwynn was getting ready to hit or take the field, he just loved to rap with 'ya.
In fact, he could talk your ear off. But that's a good thing. Tony Gwynn ain't no dummy. In fact, he's one pretty smart dude.
And in keeping with the modernerabaseball.com spirit of taking you inside the locker room like no other, here's a Tony-esque retort from earlier this year on anything and everything – totally unedited for your dining and dancing enjoyment.
On the 40-something ageless wonders, Rickey(Henderson) and Tony: "We have to be productive because as soon as we're (not) the question marks pop up, so our job is to go out there and beeffective and help our club do what we're trying to do and that's not going to change for us from here on out and I think we both know that. It just adds to the excitement."
"We can't go out there and slug four a week because we're too old, but it's motivation too because you know nobody wants to go out there and just be mediocre. We've got to work at it a little bit more than we have in the past."
On statistics: "You know, they were talking about that in Chicago – that we're leading the league in walks, and we're far from selective and all of the sudden we lead the league in walks. I can't explain that other than, but in the last 10 games or so we've gotten a lot better at trying to get a pitch to hit instead of trying to hit a pitcher's pitch. Really, I can't explain that, but right now guys are getting some good at bats, guys are going up there with an idea of what they need to do and how they need to do it. And they're sticking to it. They're not changing in midstreams like we did earlier. It's fun when people bury 'ya – we're the 30th best team in baseball. It's fun when you can put it together and kind of show people, 'Hey, we ain't rolling over for nobody.'"
Curious Joe jumps in with a question: "You guys are using that for motivation, Tony?"
"I don't see how we can't. You know, we're all sitting in the clubhouse and CNN came on that day and 'were the 30th best team in baseball.' And how many teams are there in baseball? 30! Oh! (a big chuckle from Tony). So your actions obviously got to speak for you and that's what we're trying to do. We're trying to play our style of ball and do our thing and everything's clicking right now."
On the new schedule in 2001: "Well, that's what the unbalanced schedule has done. I mean, when you're playing in your own division, you're knocking each other off and then you go outside the division. That's when you're going to make some hay and we're lucky we didn't have a Seattle in our division! And our division ain't no easy division either! But here we are sitting at .500 – right there. I think for a lot of guys we probably didn't look at the standings before we were under .500. But you all of the sudden get to .500, you want to peek."
"It's early but I think what these guys realize is, 'Hey, we can play.' We have no reason to be scared of anybody. They got to pitch it. They got to catch it. They got to hit it just like we do and if we do what we're capable of doing, 'Hey, why can't we beat anybody?'"
"I like getting slammed, that's the best. When there's no expectations everybody expects you to fall on your face. That's why if you do anything people are like, 'Damn, Hey, the Pads!' Like last night, watching the Dodger game, and Vin Scully said, 'Have you seen what the Padres have done? They've won eight of nine. And they're under .500, but they're only two games out of first place!'"
"Everybody is surprised, except us. Nobody's going to give us a shot. That's fine. We just go out there and play our game. We lose, we lose. We win, hey. That's what we're getting around town, 'Hey, nice road trip!' It's early, but it's fun. It's fun because I think these guys are starting to believe we can beat anybody."
On why the fans keep coming: "I don't know why, I'm just glad that they're happy. They're very supportive and I think this last road trip has probably won some people over because that's how we have to be. We're not going to bang with anybody. But we are going to fight and scrap and do what we've got to do play the hit and run, steal some bases. We'll do the dirty work because that's what we have to do."
"We're not going to hit many homers, but we are going to scrap and we are going to fight. And we're going to claw and we're going to do what we've got to do to put some runs on the board. And it's great when you've got a catalyst like Rickey because when he's going good – shit – it's easy, you know? When you can score runs on outs, like I said, that's a huge thing and you might not think about it. But getting a run off (Greg) Maddux in the first is a huge thing."
"That's what we've been doing the last four or five games, scoring a run in the first inning or two. We've been giving our pitcher a cushion – something to work with. And usually they've settled in and you just go from there, but I'm never going to turn down a three-run homer like a lot of these other teams get. But we don't mind scraping because sometimes that's what we're going to have to do."
"But it's fun, it's a fun style of baseball. Everybody can do it. Everybody can contribute. You play your game, you do what you do. You don't have to be somebody else, you just do what you do. And with Rickey and (Mark) Kotsay at the top – they both can run. They both are aggressive. I'm the bat control guy."
"Ben Davis is swinging real good. We've got some guys swinging really good. Right now, it's a fun place to be. I think guys are looking forward coming to the ballpark every day. I think the biggest thing is right from Jump Street this is what we've got to do. We got to scrap. We got to fight and that's what we're trying to do. And it didn't look good early, but now it's starting to look good. Guys are starting to believe. Obviously, when you get your confidence it makes it a lot easier."
Copyright 2001