MODERNERA KIDS GAME
by modernerabaseball.com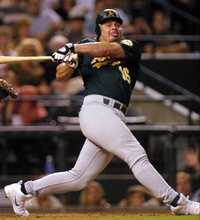 Rumors circulate that 2000 American League MVP Jason Giambi might be dealt.
"Jason, your thoughts?"
"Having a great time and not worried about it," says the slugger.
This article sponsored by:


Looking for a loan? Get a FREE quote. Click Here!
Save time and money on Loans, Cars, Insurance, Credit Cards, & Home Improvements. www.GetAFreeQuote.com

The "no worries dude" attitude fits Giambi and his team, the Oakland Athletics, perfectly. Despite a disappointing first half, it's hard to imagine Giambi and the A's continuing to struggle. And it's also hard to believe that Oakland would part with Giambi, who doesn't want to go anywhere anyway.
With a strong nucleus of starting pitching and young sluggers like Giambi, Eric Chavez, Miguel Tejada, Olmedo Saenz and Terrence Long, you would think General Manager Billy Beane would want to keep this team together, starting with No. 16.
"I hope so, I hope so, I hope so," says Giambi. "You know, just a couple of years ago we lost 97 games and now we've won the division, and can make a run at maybe the World Series. It's definitely exciting and the biggest thing is we're out there having a good time, so nobody's putting any pressure on themselves or anything."
Well, at least the appearance of pressure doesn't seem evident. The A's are still young and their clubhouse reflective of their youthful vigor. After victories, Oakland's clubhouse is exuberant while Seattle's is business-like, reflective of the Mariners veteran squad.
Seattle's incredible first half run caught Giambi and the A's off guard. And in spring training, Giambi knew that getting off to a strong start was essential to win the American League West because of the new schedule and beefed up rosters in Seattle, Anaheim and Texas.
"Yeah, definitely," Giambi said on March 23. "That's going to be the biggest thing we just have to concentrate on - getting off to a good start - because you play in your division right from the get go. So if you start off slow you can find yourself six games behind real quick."
And that's exactly what happened to Oakland, which were the darlings of pre-season prognosticators to win the division and advance to the World Series. Now if the A's are to return to the post-season they'll likely need to do it via the wild card.
And with Giambi carrying them.
You might think that as the defending Most Valuable Player, Giambi's off-season hitting regimen was intense. In reality, the All-Star selection exercises a different off-season routine than many.
"I don't even touch a bat until I get to spring training," Giambi explained. "(Instead) I work out real hard and make sure I show up into camp in shape. You know, this year I worked out a little bit harder because all the travel I had to do after winning MVP. So I worked out a lot at some of the hotels and things like that."
Why wait until spring training to start hitting when other players begin taking their hacks in December or January?
"It gives me something to work on," Giambi answered. "I don't really need a lot of time to really work on my swing or anything like that, so I keep it where I've got something to work on so that way I can start trying to peak at the end of spring training."
Giambi's selection to the All-Star team is reflective that his preparation must be working. His success is quite impressive too, considering his off the field activities.
He launched "Operation Gumby" in 1999, which reaches out to children across the country to deal with the issue of bed-wetting and he's also a spokesman for CAP Cure, which helps raise money and awareness in the fight against prostate cancer.
Two causes coming from a guy who, if you didn't know he was a ballplayer, might be perceived as a backstage roadie for Eric Clapton or Vince McMahon.
With his tattoo's, goatee, wavy hairdo and 6-foot-3 presence, it's no wonder Giambi lists "off-roading and the World Wresting Federation" as two of his hobbies.
And as long as Giambi's still in Oakland, he's going to continue to keep things loose.
"We're having a good time coming to the ballpark," Giambi said. "We enjoy being on this ball club together with everybody. It's been fun. We just have a good time together."
"We're still having a great time. We're not worried about it," Giambi added. "We're just going to keep doing what we know how to do and that's going out there and hitting homers! That's about it!"