MODERNERA HERO
by modernerabaseball.com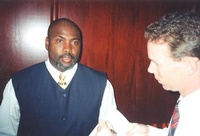 They say he's too old. They say he's too slow. And they say he's too fat.
They're some baseball critics – and they're some bunch of idiots!
Tony Gwynn is arguably the best hitter ever to play this game - a class act and a true Modern Era hero to fans, young and old. With his ticket already punched for the Hall-of-Fame, the eight-time batting champ is looking to rebound from an injury-riddled 2000 season.

This article sponsored by:


Get the lowest prices on Palms, Casios and more!
Buy and sell Books, Music, Movies, Games & More! An eBay company. Click here. www.Half.com

The right fielder could have left the San Diego Padres in the off-season for greener pastures, but like some of the game's all-time greats, such as Cal Ripken, Jr., Gwynn decided to remain with the only team he knows. And the only community he knows.
Gwynn is a legend in San Diego, and sure being a star professional athlete helps. But the father of two epitomes what every baseball fan loves about the rare Modern Era day hero – great and humble on the field and great and humble off it.
I've had the privilege of watching Gwynn play and seeing his good deeds for San Diego. Along with his wife, Alicia, Gwynn has been giving back to San Diegans in a number of ways over the past several years to raise money for the city's abused children. The Gwynn's have supported seven charities through his foundation including Neighborhood House, YMCA, a local hospital and a police athletic league, among others.
For his part, the future Hall-of-Famer enjoys visiting with children who have previously been neglected, but now have been given a home at a non-profit center thanks to his foundation.
"Every year I go over and talk to the kids and see what's going on with them," explained Gwynn. "You kind of have a relationship with each of them. You feel like you're making a difference. It's a place for them to continue their education and teach them the skills to go into the real world. You just try to do your share. The bottom line for us is doing our share."
"My biggest thing is children," Gwynn added. "That's kind of where I try to make a difference. If you can get them early enough, you can make a difference."
Gwynn also hosts an annual Celebrity Golf Classic to raise money for the foundation. Additionally, he remains actively involved in the Padres Scholars program, which annually awards college scholarships, and spends a portion of his off-season teaching kids the fundamentals of baseball.
Success and fame have not changed Gwynn. He is as easygoing, approachable and down to earth as they come. His son, Tony Jr., plays for Gwynn's alma mater, San Diego State, at a ballpark named after his Dad.
The proud papa was there earlier this year before the Padres headed to Peoria, Ariz. for spring training to watch his son play. The future Hall-of-Famer just sat quietly in the stands like other parents, watching their sons play.
No big limosine upon arrival. No swarm of body guards. No hype. Just Tony being Tony.
Gwynn's assault on Major League pitchers hasn't changed over the years either. In fact, his mastery of hitting has probably contributed to the growth of aspirin over the past two decades. Managers like Houston's Larry Dierker have needed it many a time.
When Dierker hosts strategy meetings in preparation for the Padres, Gwynn's name does not come up in the conversation.
"We've dissected Tony Gwynn," Dierker once told me. "There's no way to pitch to him."
Added Astros pitcher Shane Reynolds: "Tony Gwynn is Tony Gwynn – need say no more. You just have to mix it up and hope he hits it to somebody."
No wonder.
Even with an injury-riddled 2000, Gwynn hit .323, marking the 18TH consecutive season he has batted over .300! The feat surpassed Honus Wagner's National League record set from 1897-1913. The major league record belongs to Ty Cobb, who topped .300 for 23 consecutive seasons in the American League between 1906 and 1928.
The only time Gwynn has failed to bat .300 at any stop in his professional career was 1982 when, after batting .328 in 93 Triple-A games, he batted .289 in 54 games for the Padres in his major league debut. With two more hits that season however, Gwynn would have hit an even .300! Amazing!
As Gwynn plays in year 2001, he does so armed with perhaps his greatest challenge – overcoming the doubts of some fans who think his best days are over because of a bad knee. Gwynn disagrees, and don't be surprised if he proves the critics wrong – again.
Walking around the "Baseball Today" area at the Baseball Hall of Fame in Cooperstown, New York, it's as if Gwynn is already enshrined.
There is the uniform Gwynn donned in 1994 to win his fifth batting title and the bat and Nike spikes used by Gwynn to win his eighth such title in 1997. Additionally, there is the home run bat used by Gwynn on April 13, 1987, one of a trio of Padre batters who led off the game with consecutive home runs. And of course there is the bat Gwynn used to smack his 3,000th hit. There's even a 1985 baseball card of Gwynn, sporting a mustash.
Yep, Tony Gwynn is a Modern Era hero all right. But like Ripken, Gwynn won't be around much longer. Catch these Modern Era Day heroes while you can. They don't come around often. In fact, they only come around once in a lifetime.