Related Articles
(Sorted by topic similarity...)

Cricket the American way
If you're finding cricket terminlogy a little too hard to understand,here's Cricket Americana,it's explained using baseball terms,comparisons and contrasts.So if you're familiar with baseball,you should read this to get the hang of cricket.

Article - Baseball Quotes
Looking for the perfect baseball quote to add to a plaque, hanging, T-shirt, or other craft project? Look no farther! Here are our favorite inspirational and funny baseball quotes.


Become the General Manager of your own online baseball team.
Become the General Manager of your own online baseball team.Sim Dynasty just released Version 2.0 of its popular baseball simulation and the new season starts May 1, 2002. Register now at http://www.simdynasty.com.Sim Dynasty is set in the 1950s – the golden years of baseball before free agency and millionaire players. Sim Dynasty is baseball as it was meant to be – a game, not a business. Sign up today at http://www.simdynasty.com.

Baseball
Baseball, the All-American Game. From sandlots to stadiums, amateur to professional, youth to seniors, many of us have spent an enjoyable summer evening spectating, or playing, a baseball game.

Minor League Baseball Awards for 2001
Minor League Baseball has announced the winners for it's 2001 season.The awards were presented at the Winter Meetings in Boston last week.

MODERNERA TEXAS-SIZED LAUNCH PAD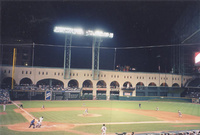 There are a few givens in life, but here's one of them: you can take a native species out of Texas, but you can't take the Texas out of the native species.
Everything in Texas is big - from the ballparks to the football stadiums (college and pro) to the "honky-tonks" and people's trucks - even Ross Perot's goofy ears and J.R. Ewing's cowboy hat. Oh, and "Astros Field."

Review: Baseball Mogul
While it is a little late in the season to look at a baseball sim I did anyway and I liked what I saw.

Baseball Becomes the National Pastime
Baseball had evolved into an organized sport in the 1840s and 1850s. The earliest teams were established in New York City and Brooklyn.

MLB.com Selects iConverse to Roll Out Wireless All-star Voting and Scores on the GoTM for Mobile Fans
The new MLB.com wireless service, developed and deployed by iConverse, enables baseball fans to vote their favorite players onto the Major League Baseball All-Star TeamTM and retrieve up-to-the-minute scores at anytime, from anywhere, using any mobile device. - Posted 6/26/01

Radio Interview with Gehrig
Full-length interview transcript from 1939. A rare goodie. Enjoy!

Craft Project - I Love Baseball Box
Are there any baseball fans in your life? If there are, they will love receiving or even making this fun project. Simple enough for little hands to make, it is a versatile project that is perfect for party crafts, gifts, holidays, or any special occasion.


Team Nihilism Defeats Major League Baseball
Team Nihilism scored on Major League Baseball again, and like all the other times, it was not an earned run. Nihilism is the philosophy based on the ethical assumption that there is nothing in the world of any value to anyone. Nothing left to respect and no standard of right and wrong to look to. On August 10, 2001, the baseball game between the Detroit Tigers and the Kansas City Royals defined the players, the game and our culture (at the very least a part of it) as well. Mike Sweeney of the Kansas City Royals threw a helmet, charged the mound and tackled Detroit Tiger right-handed pitcher Jeff Weaver. Numerous punches were thrown causing both benches and bullpens to clear during the sixth inning of the game. As a result, Sweeney, a Kansas City pitching coach and a Detroit bench coach were ejected from the game after a short delay

MODERNERA HALL-OF-FAME MUSEUM


Ever since I could walk I've always wanted to visit the Baseball Hall of Fame and Museum. There's just been one problem: I've never understood why it had to be located in the middle of New York State - which is to say, in the middle of bleeping nowhere!

Then I finally visit, and I understand.



MODERNERA DREAMIN' OF "THE SHOW"


Ah, minor league baseball, where one can only dream of "The Show." When you're a minor league baseball player you have only one motivation: Get to "The Show."

"The Show," as was eloquently portrayed in the baseball film, "Bull Durham," starring Kevin Costner, is - of course - the major leagues.

And baseball fans don't have to travel far to catch their favorite team's future stars, who will likely be in "The Show" within the next few seasons.

Take Me Out To The Ball Game! Recipe For Quick and Easy No-Bake Baseball Cookies
Cheer on sports fans! Because here's a cookie that hits a home run! Enjoy these No-Bake Baseball Cookies during or after the ball game for a sweet treat!

MODERNERA WRIGLEY USHER


If you're headed to "The Friendly Confines," and he's still kicking it, say hello to Henry Widgren and you'll be reminded why you love this game.



Commentary
New Baseball Staduims Demonstrate The Power of People Working Together
It's amazing. County and city governments, the baseball commissioner, privately owned teams, and private citizens work together to get a new staduim built. The staduims are great, but what about the real world.

MODERNERA "TREVOR TIME"


If there ever was a time NOT to leave a close ballgame early, it's in San Diego where "Wild Thing" from the movie, "Major League," is often lived in the form of "Trevor Time."

CHICAGO 1, BASEBALL 0
"It's not every year a boy takes a trip with his parents and big brother--a trip that floods his mind with great memories until the day he gets too old to remember anything," writes Harvey Gardner, as he recalls the only family vacation he had as a youngster growing up in Tennessee.

from GRIT, GUTS, and BASEBALL: the stories of Sank Powe
"More In The Man" is from Ye Editor's book, GRIT, GUTS, AND BASEBALL. The book sold well and is out of print, but here's one of the stories from the life of Mississippi Coaches' Hall of Famer, Easton Sports High School Coach of the Year, Jackson State University Sports Hall of Famer, Cincinnati Reds scout . . . Coaaaach Sank Powe.


Sponsored by:
Explore the WebSeed network at WebSeed.com