RECEIVE OUR NEWSLETTER!

"Unless you're leading the Dog, the view never changes." - sign just outside the Yankees spring training clubhouse, Legends Field, Tampa, Florida
HAPPY NEW YEAR FROM ALL OF US AT MODERNERABASEBALL.COM!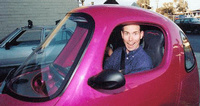 KIDDIES, IT'S HERE FOR JUST $10.00 (U.S.)! "A FANS GUIDE TO THE ULTIMATE SPRING TRAINING EXPERIENCE"!
Welcome to modernerabaseball.com: as featured on numerous radio stations across the U.S. including ESPN 1000, Chicago; XTRA Sports 690, Southern California's sports leader; and "The Ticket," Dallas; among others.

"The fan-friendly spirit of modernerabaseball.com wouldn't have been possible without my Dad, Joe Connor III, who was, and remains, my guiding light to baseball. His spirit is the heart of this site - why the content and emotion is so unique, so original, so real."
- Joe Connor IV, founder of modernerabaseball.com

MODERNERA SPRING TRAINING GUIDE
by modernerabaseball.com

It's here Kiddies! It's "A Fans Guide To The Ultimate Spring Training Experience," and it's available exclusively at modernerabaseball.com for just $10.00 U.S., plus free advice from the author on planning your trip! Review excerpts here or quickly and easily download it now!

MODERNERA 2002 LOOK-AHEAD
by modernerabaseball.com


The modernerabaseball.com inaugural Father's Day Contest was a big hit with fans, including winner Peter Goldfinger who is a poet at heart.
Read Peter's Father's Day contest submission and – in his own words – how he's handled the new fame and fortune since!

MODERNERA LOOK-AHEAD II
by modernerabaseball.com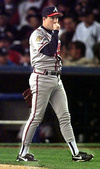 Why has a Brian Tollberg, late of the Independent League, who barely throws 86 miles per hour, been able to remain in the major leagues longer than many pitchers who throw much faster – upwards of 92 miles per hour or more?
How come Atlanta pitcher Greg Maddux – who throws with the same velocity as Tollberg and is barely 6-feet tall and 180 pounds – is recognized as arguably one of the greatest pitchers of all-time?

MODERNERA BATMAN
by modernerabaseball.com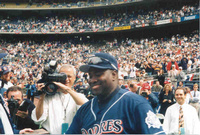 With his knee shot, Tony Gwynn was relegated to mostly a pitch-hitting role in 2001.
Not a problem for Batman, who at one point was batting .500 as a pitch-hitter. We decided to let Tony do what does best besides hitting – talk hitting – and caught up with him after he drove in the winning run in a game this past season.

MODERNERA TONY
by modernerabaseball.com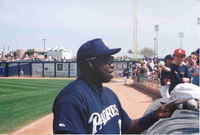 When Tony Gwynn decided to hang it up for good at season's end, he not only left his bat – but also his mouth.
You see, unless Gwynn was getting ready to hit or take the field, he just loved to rap with 'ya.

MODERNERA LAUNCH PAD
by modernerabaseball.com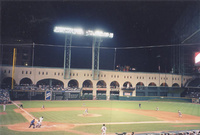 There are few givens today in Major League Baseball but here's one of them - teams are building themselves new ballparks like there's no tomorrow.
Well, they're not exactly constructing these new digs all by their lonesome. That would be too sensible.


Athlon Sports
If modernerabaseball.com is heaven, wait until you visit Athlon Sports! It's heaven continued! These leaders wrote the book on crafting classic, historical sports stories, including baseball. They're our content partner - and are we privileged!

Jerry Hodge's Fantasy Baseball Camp
You've been dreaming about it for years. Quit waiting! Jerry Hodge's Big League Fantasy Baseball Camp is the bomb! Play alongside some of the game's all-time greats in the Florida sun! The camp features Hall-of-Famers!

Eric Harr's BodyFire.com
Failing to meet your fitness goals? Can your current exercise program be improved? Learn from one of the best! Eric Harr is a world class triathlete. Find out the keys to a successful personalized fitness program!

Wrigleyville's Murphy's
No visit to Wrigleyville and the charming neighborhood of the "Friendly Confines" is complete without a big fat brewski or two at Murphy's, which is located next to Wrigley Field. Get their early! It gets packed quickly, ya here!

Field of Dreams Movie Site
Ok, so it's a famous piece of baseball history in the middle of Iowa (Idiots Out Wandering Around. Sorry Hawkeyes, a Missouri joke! Live a little, would ya?) You'll feel like you've died and gone to baseball heaven when you see it. Believe us.

Chicago Cubs Bleacher Banter!
They're the stuff of legend! The Chicago Cubs bleacher fanatics! This is THE site of the passionate crew of Sammy Sosa devotees! Holy Cow, Harry! Grab a cold one and enjoy!

Sponsored by:
Click here to save on your next Mac purchase!
Get the new iMac G4 for as low as $1,294! We'll beat any Mac price. www.MacMall.com

Click here for All Season Performance Outerwear.
Waterproof, windproof, breathable, affordable. Guaranteed. www.FroggToggs.com

Shop with the Big Dogs! Big Sale!
Buy 1 get one at 75% off- equal or lesser value, excluding graphic tees. www.BigDogs.com



Decorating made easy! Lowest prices in the USA!
Blinds, wallpaper, lighting, rugs, and more! Free shipping, satisfaction guaranteed! www.DecorateToday.com

This site could be linking to you! Click for details...

Link to this site. Feedback.
All contents copyright © 2001,2002, all rights reserved. Disclaimer.
Jan 20 2002, 22:35:37
related resources:

This site's search engine optimization by WebSeed. Publishing technology by WebSeed Publishing.