MODERNERA COMMISH
by modernerabaseball.com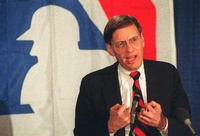 At first glance, Allan H. Bud Selig can be perceived as being about as exciting as going to see the Expos play the Devil Rays at Olympic Stadium.
Yet outside the media spotlight, the commissioner is anything but the perception of an accountant at a funeral. He is passionate – and determined - to leave a lasting legacy of having been the "renaissance man" who catapulted America's pastime back to its stature as the country's most popular sport. But accomplishing that task won't be a picnic for the former history professor.
This article sponsored by:


Click here for all your Baseball Gear!
Baseballs, bats, team apparel, bags, gloves, accessories, pitching machines and more! www.TheSportsAuthority.com

August 4 will officially mark the three-year anniversary of Selig's tenure as MLB's ninth full-time commissioner, though the Milwaukee native had served in a somewhat similar capacity as "interim commissioner" following the bitter ouster of Fay Vincent.
With new, corporate-named ballparks debuting in Detroit, Houston, San Francisco, Milwaukee and Pittsburgh in the past two seasons, Selig's goal is clear: attempt to return MLB to its roots while trying to accept and live with modern day sports economics. And Selig believes that "renaissance" can happen – in large part - by continuing to build urban, baseball-only ballparks that are purported to create new revenue streams and reconnect fans with not just their teams, but also their cities.
The "need for a new ballpark" has long been Selig's battle-cry, claiming these new ballparks will enable so-called "small market" teams from Florida to San Diego and back, to compete for high-priced free agents with so-called "large market" clubs like the Yankees and Dodgers.
"It's really something I've devoted many years to," said Selig, who often uses the term "huge" to describe the importance of creating new, urban ballparks. "People can grumble about economics, but that's a fact of life...They're fan-friendly sensitive. They have all the history of the old ones."
The father of three and grandfather of four, who turns 67 on July 30, has been championing new urban ballparks, like old Ebbetts Field in New York, Forbes Field in Pittsburgh and Crosby Field in Cincinnati, even before September 1992, when he became Chairman of baseball's Executive Council, overseeing the committee which has authority of the commissioner's office.
After the sudden death of A. Bartlett Giamatti, who had banished Pete Rose for life for betting on MLB, Vincent was sworn in as commissioner, only to be forced out quickly by a majority of owners and exiled to the tip of Massachusetts and the shores of Cape Cod.
Suddenly, Selig - the one-time humble American History and Political Science major from the University of Wisconsin - was at the helm. Although Selig would eventually achieve labor piece by securing a new collective bargaining agreement with the players association, he oversaw one of the worst periods in the history of MLB – and arguably – American culture.
After opening shining new baseball-only ballparks in Cleveland and Arlington, Texas, and with Ken Griffey Jr. and Matt Williams in hot pursuit of Roger Maris' elusive home run mark of 61, the players went on strike.
Then on August 12, 1994, in a grim New York City press conference, Selig announced to the nation that there had been no reconciliation between the players and the owners, and that there would be no home run chase, no stretch run, no Fall Classic.
In short, there would be no World Series in 1994. The season was over.
In August.
Ballparks from San Francisco to Boston were padlocked. Kids dreams - shattered. MLB's heart - broken.
The ultimate nightmare has occurred. And Selig himself was heartbroken. Reviewing tape of the August 12, 1994 press conference closely, it was not hard to witness the sheer internal pain the news took on Selig. He had failed to stop a disaster.
And it wasn't until April 3, 1995 that players finally agreed to return to the diamond. Yet that refreshing news lasted less than 24 hours for Selig.
That's because on April 4, 1995 Wisconsin voters rejected the creation of a sports lottery by a two-to-one margin which would have helped to pay for a new ballpark for the Brewers, the team in which Selig owned (Selig served as president of the Brewers for 33 years but relinquished control of the team to his daughter, Wendy Selig-Prieb, on August 4, 1998 in order to take on the role of full-time commissioner).
The Wisconsin State Assembly and Senate would accept a new financing plan for a new Brewers ballpark in the fall of 1995, but the Stadium Board rejected the new proposal in June of 1996 by an 8-5 vote.
Immediately following the board's decision, a fiery Selig addressed ardent ballpark supporters in an emotional speech outside County Stadium, the Brewers home field up until this season. During that evening's game, fans spontaneously gave Selig a standing ovation.
1 2 3 next page->