HELPING FANS PLAN AND MAXIMIZE A BALLPARK TOUR!
Featured on ESPN Radio, FOX Sports Radio and many other stations!
Home
About Us
Link To Us
Testimonials
Other E-Guides
Ballpark Planning
Father's Day Contest
Media Schedule
E-mail Feedback
About The Dedication



MODERNERA SWEET BALLPARK VIEWS
by modernerabaseball.com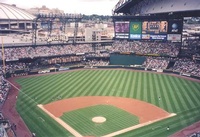 It's no secret why SAFECO Field, known to the locals as "The SAFE," is a hard ticket to come by.
Just where to begin describing this ballpark with arguably the most incredible views from any professional sports venue on the planet today?

This article sponsored by:


Shop with the Big Dogs! Big Sale!
Buy 1 get one at 75% off- equal or lesser value, excluding graphic tees. www.BigDogs.com

How about the unbelievably gorgeous shot of downtown with the famous "Space Needle" hovering in the distance as the coast nudges West Seattle?
More magnificently, how about the picturesque view of quaint Elliott Bay, and massive but charming Puget Sound as ferries, ships and sailboats in between charter oh so peacefully wisk by with the gentle Northwest wind toward the snow-covered Olympic Mountains to the west and various ports of call?
Not since 1969 when the Seattle Pilots (now Milwaukee Brewers) played at Sicks Stadium had Seattle Mariner baseball fans enjoyed watching America's national pastime outdoors. But perhaps the greatest aspect of the SAFE is its location outdoors smack dab in what feels like the heart of the Emerald City. There's a certain connection, a certain pride Mariners fans now feel when they hear the Southern Pacific rail cars toot their horns as they pass by the SAFE about three times per game.
The SAFE is indeed a sight to be seen. Whether you're nestled comfortably in your seat above right field and taken aback in awe of the breathtaking beauty before your twinkling very eyes, or down at field level, it's as beautiful and picture-postcard as ballparks come.
The ballpark, snuck five feet below street level, affords fans about as twice as many prime seats for viewing the likes of Ichiro Suzuki and Edgar Martinez than the Mariners former dump, the Kingdome.
Sight lines are just one of the unique characteristics of Safeco however.
There are numerous scoreboards located throughout the yard, including two which let fans know exactly what is happening - at-bat by at-bat.
So, for example, if you're in the menís or the ladies, and return to your seat to discover you already missed an out, just check one of these scoreboards on either the first or third base side for the details on what just transpired.
For more on the SAFE - and how to see it and Seattle - buy "A Fans Guide To The Ultimate Ballpark Tour: Fully Loaded!"
Sponsored by: