MODERNERA LOOK-AHEAD II
by modernerabaseball.com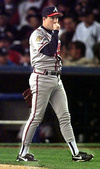 Why has a Brian Tollberg, late of the Independent League, who barely throws 86 miles per hour, been able to remain in the major leagues longer than many pitchers who throw much faster – upwards of 92 miles per hour or more?
How come Atlanta pitcher Greg Maddux – who throws with the same velocity as Tollberg and is barely 6-feet tall and 180 pounds – is recognized as arguably one of the greatest pitchers of all-time?

This article sponsored by:


Get your Credit Back on Track. APPLY NOW!
Credit limits up to $1,000. Re-establish your credit with an unsecured Visa. www.PremierCreditCard.com

Why has a player like Kevin Millar of the Florida Marlins, also late of the independent league, been able to survive when so many others have failed?
Why do some of the most physically gifted pitchers and hitters flame out while less physically talented athletes thrive?
Welcome to Major League Baseball, where success is often dependent not on aptitude – but rather attitude, or the mental processes that make up each player. Of a typical Major League Baseball pitching staff, only a few consistently throw the ball more than 90 miles per hour. That's about a third or so of a given staff!
And what about Maddux? This guy looks more like a professor at Harvard than a rugged baseball player. How come a pitcher like Maddux can dust off a bad inning and recover?
"Because he (mentally) thinks he's going to get out of it," said long-time Atlanta Braves pitching coach Leo Mazzone, who has worked with Maddux, Tom Glavine, and John Smoltz – all possible Hall-of-Fame candidates. "There are other pitchers (in baseball) who think they're going to (expletive) it up. He (Maddux) thinks he's going to get out of it – regardless (of the situation). He's going to make (good) pitches."
And hitters like future Hall-of-Famer Tony Gwynn know all too well why a mentally tough pitcher like Maddux has succeeded for so long.
"He's got to scrap. I mean he's the best. He's the best," commented Gwynn. "And he ain't giving in - you've got to hit his (good) pitch. You can be aggressive but he'll take that aggressiveness and use it against you. And so you've got to say to yourself – at some point – 'I've got to hit his (good) pitch, and (just) try to do something with it.'"
"I mean it's hard to explain because until you're in the (Batters) Box up there and he's throwin' that 80 mile per hour change up and it's haaard," Gwynn continued. "It's hard to stand up there and look for it when he can throw a fastball or a cutter in, but sometimes that's what you've got to do and when he's locating (his pitches) he's tough."
Maddux has won four Cy Young awards, a honor bestowed annually to the best pitcher in baseball. He's also won a World Series ring. Essentially, Maddux has nothing left to prove. And his approach – essentially – hasn't changed much over his long and storied career.
Worry about wins and losses? Ha!
"I don't worry about it. I don't worry about it," explained Professor Maddux. "When you're pitching you don't worry about the outcome of the game. You want to stay locked in on the hitter and who you're facing and worry just about – really – the (next) pitch you're going to throw. And - you know - the outcome of the game is really secondary. So you just focus on the (right) pitch to throw and how to throw it and that's it. Nothing else matters."
Well, some things matter. Like when the bases are loaded or two men are on with nobody out. How do you get out of this mess? And how does that effect your mental approach?
"Obviously, as a starting pitcher, the bottom line is to – if you are giving up runs – to stop the bleeding as quickly as possible and keep your team in the ballgame," said former Rockies pitcher Kevin Jarvis. " I learned that. That was hammered home to me last year when I played the whole year in Coors Field in Denver (where the air is thin because the altitude is a mile high). And there you're never out of a ballgame - no matter how many runs you give up."
"That's why you continue to focus, you continue to throw strikes," Jarvis added. "You get the next batter, (then) you get the next one because you never know what you're teams' going to come back and do, and how many run your (team) is going to score - and it may be one run. But that one run you save in a big inning, it could be the difference."
"This game is a game of inches and you see it every night," Jarvis continued. "We'll play 162 games a year and there's rarely a day or night that goes by that the outcome of a game isn't a lot different based on the inches and a guy's outstretched arm, or it goes off the glove or you throw a pitch and it's just off the corner and you don't get the call. It's amazing."
So mental toughness is needed not just when you're pitching poorly but when you feel you're pitching good, too. And when you facing hitters like Millar, who have the words "against all odds" tattooed on their arms.
"Hey, you give the guy (hitter) credit for putting it in play," Maddux explained. "Hey, you put the ball in play good things can happen and you don't have to hit it good to get a base hit."
So, as a pitcher, there's no sense losing your confidence – or your mental toughness – when things don't go your way.
"I mean he (Maddux) grinds - he gives it his all, he's a competitor," said Atlanta All-Star Brian Jordan. "He (Maddux) never gives up. (You) just get the tinker singles and (sometimes) that's all it takes."
Added Jarvis: "Anytime you're a starting pitcher and can go into the sixth, seventh, eighth inning and have your team in a position to win, I mean that's our job. That's what we try to do every time give our team a chance to win."