MODERNERA SILKY SMOOTH BROADCASTER
by modernerabaseball.com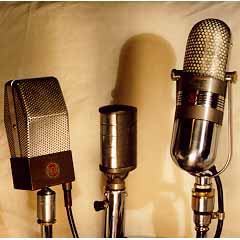 When it comes to silky smooth pipes and eloquent descriptions of the game, there are few better than Jon Miller.
If you're heading to San Francisco's Pac Bell Park, bring along a headset to listen to one of the best broadcasters in the game on KNBR 680 AM.

This article sponsored by:


Click here for ALL your Sports Gear!
Indoor, outdoor, hunting, camping, hiking, water sports and more! www.McSports.com

What are Jon Miller's fondest baseball memories? Well, there have been many memories for the San Francisco area native, who handles the play-by-play chores for the Giants on radio and ESPN's Sunday Night baseball coverage on television.
We wanted to know Miller's top three most memorable moments in particular as witnessed from his perch above home plate – in his own words. One of them might surprise you.
Back in 1988 when Miller was the voice of the Baltimore Orioles, the Birds began the campaign by losing their first 21 consecutive games.
"It was astounding. They finally won a game on the road and then lost the next two and then came home with a record of 1-23," said Miller, using his silky smooth pipes and great storytelling abilities. "Some people started calling this talk show in Baltimore saying, 'You know, I really feel bad for our guys because it seems like the whole country is making fun of them and laughing at them. And I'd just like to somehow get the message to them that we here in Baltimore are still behind them.' So when they got several calls like that, he (the radio host) said, 'Well, why don't you just show up at the ballpark when they get back and tell them yourself? That might be the most effective way to do it.'"
That Monday night at Memorial Stadium in Baltimore is a night Miller will never forget.
"50,000 people showed up!" Miller explained. "There were no discount tickets and they weren't giving away bats. They we're giving away anything. It wasn't even a promotional night."
"I mean it was one of the most exciting games I've ever broadcast! The first pitch was in for a strike and Jay Tibbs was the pitcher, who they'd just brought up from the minor leagues, and the place went nuts like it was the World Series! Oddibe McDowell (the Rangers leadoff hitter) popped up and the place went nuts again! I mean here was this team that was down as any team has been in history and the place is just rocking!"
The Orioles went on to win the game 9-4 over Texas.
"Sometimes it's a cliche that a crowd can help a team or help a team play better and all that kind of stuff," Miller said. "And you'd be hard pressed to realistically say that that does happen, but it really seemed like it happened that night."
Miller's second most memorable moment also had a strong fan slant to it. It happened during late 1997 during his first year as the play-by-play voice of the Giants. For Miller, the opportunity to "go back home" again was extra special.
"One of my memorable pennant races growing up as a kid was the Giants-Dodgers in '62. I had my 11th birthday during the World Series that year, and you know, it was one of the greatest pennant races of all time," Miller recounted. "The Giants and Dodgers both won 101 games and they had to have a playoff – best of three."
Some 30 years later, Miller was broadcasting another classic Giants-Dodgers pennant race. In late September 1997, Los Angeles led the National League West by two games over the Giants with 11 games to play as they headed to Candlestick Park for a critical two-game series – the last between the teams for the season.
"The Giants came in with a four-game losing streak and it really seemed like they needed to sweep those two games from LA," Miller said. "They won the first night, 2-1, very dramatically, and the next day they actually blew a 5-1 lead and they went into extra innings, and it turned into one of those incredible games that nobody would ever forget."
With the game on the line, Giants closer Rod Beck immediately loaded the bases in the extra frames. Beck had already been on thin ice with Giants fans for blowing saves earlier in the season.
"The crowd was in an ugly mood by this time and they're screaming obscenities at Beck and they're screaming obscenities at (Manager) Dusty Baker and so Dusty goes out to the mound," Miller recalled. "And Dusty says to Beck, 'Hey, Shooter. You know what to do. Do what you've always done in spots like this. You're the guy.'"
1 2 3 next page->