The largest music store imaginable is actually in your home computer room

Check out LyricMusic.info and find your next guitar or everything else you could need relating to music

Everyone wants to be a star - at least in their own living room. Whether you sing, play an instrument or like to spin vinyl, chance are you want access to high quality equipment at a low price. The Internet is a great place to shop for a new guitar, sheet music, music lyrics of your favorite songs or recording and DJ equipment. Rather than spending your time driving all over the city looking for variety and great deals, go online to locate hard to find brands and music specialty items.

Unless you're able to improvise, you'll probably need music books and sheet music. For those of you looking to be able sing songs at your next get together get the latest in music lyrics. Some websites offer extensive variety of sheet music from popular, gospel, show tunes, classical, holiday and out of print sheet music.

You can find instruments for someone just starting out or buy the guitar of your dreams. It's also a great resource for unique sizes and brands of guitar strings, slides and capos. Top quality recording equipment is now available for home studios - lots of options exist online.

If you're a musician from way back or are just starting out, don't over look the Internet as a resource for tracking down a new guitar or other musical instrument, locating hard to find sheet music, music lyrics or music books. The 'net offers exceptional variety all at competitive pricing.

Go to LyricMusic.info to fill all your music needs.

Copyright 2001


Back to modernerabaseball.com:
MODERNERA AL-LEAST


The All-time teams for the Orioles, Sox, Yanks, Jays, and – yes – even Devil Rays. E-mail us your list using the "Scouting Report" link to the left!
MODERNERA LE-GO MI PEDRO!

Only in 2001 can Pedro Martinez be given a warning for grazing a batter - WITH A FREAKING CURVE BALL! How did the game stoop to this utter mess? By licensing Barbie Doll, that's how! Learn more about this disgrace to our past time.
MODERNERA BALLOT STUFFING

The Mariners are enjoying a banner year but is Seattle catcher Dan Wilson, third baseman David Bell and outfielders Mike Cameron and Al Martin deserved of spots on the 2001 American League All-Star team?
Hmmm…smells like there's some "ballot stuffing" going on in the Emerald City. Get one fans' take.
MODERNERA MUSEUM


Ever since I could walk I've always wanted to visit the Baseball Hall of Fame and Museum. There's just been one problem: I've never understood why it had to be located in the middle of New York State - which is to say, in the middle of bleeping nowhere!
Then I finally visit, and I understand.
MODERNERA FANTASY
You've never heard of John Dever, but he's living out a boyhood fantasy many fans can only dream about.
MODERNERA ROAD TRIP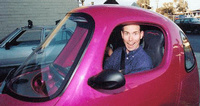 He's hit every Major League Baseball ballpark and spring training facility, the Pacific Coast League, California League, Hall of Fame, Nolan Ryan Museum, College World Series, Field of Dreams and the Cape Cod League, among others. Now what?
MODERNERA MEMORIES

The year was 1962. The location was Chavez Ravine. The ballpark was newly-opened Dodger Stadium. And it was a Father's Day that Molly Sheridan has never forgotten.
Learn more about the Father's Day Contest runner-ups unique story and Dad.
MODERNERA BIG BEN
Ben Davis knows all about expectations. Now he's starting to live up to them.