If you're headed to "The Friendly Confines," and he's still kicking it, say hello to Henry Widgren and you'll be reminded why you love this game.
Ever since I could walk I've always wanted to visit the Baseball Hall of Fame and Museum. There's just been one problem: I've never understood why it had to be located in the middle of New York State - which is to say, in the middle of bleeping nowhere!
Then I finally visit, and I understand.
It's no secret why SAFECO Field, known to the locals as "The SAFE," is a hard ticket to come by.
Just where to begin describing this ballpark with arguably the most incredible views from any professional sports venue on the planet today?
Never been one to listen to the ballgame while at the yard? Well, make an exception for a legend. I grant your subconscious permission.
After after, Vin Scully can't keep doing Dodgers play-by-plan forever. I mean, it's only been, what, 50 years?
There are a few givens in life, but here's one of them: you can take a native species out of Texas, but you can't take the Texas out of the native species.
Everything in Texas is big - from the ballparks to the football stadiums (college and pro) to the "honky-tonks" and people's trucks - even Ross Perot's goofy ears and J.R. Ewing's cowboy hat. Oh, and "Astros Field."
MODERNERA TIGER STADIUM FLASHBACK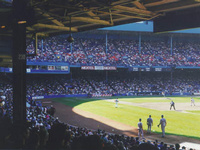 We dug back in the old treasure chest to pay homage to one of the most unique and memorable ballparks even built - Tiger Stadium.
A Michigan native shares his thoughts and memories as we flashback.
"All I'm asking for is three quick strikes and to get out of here without getting killed."
Batter Jim Bouton's instructions to umpire Nick Stello are just one of many fascinating stories told at the Nolan Ryan Exhibit Center in Alvin, Texas.


MODERNERA SILKY SMOOTH BROADCASTER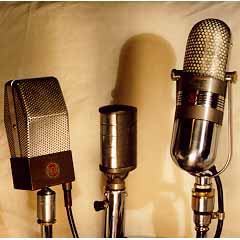 When it comes to silky smooth pipes and eloquent descriptions of the game, there are few better than Jon Miller.
If you're heading to San Francisco's Pac Bell Park, bring along a headset to listen to one of the best broadcasters in the game on KNBR 680 AM.
Chances are you've never heard of Glenn Geffner or John Dever. Yet make no mistake about it: they are living out boyhood dreams, following baseball's boys of summer every day and getting paid to do it. It's one fun job.
Planning to visit SoCal on your ballpark tour? Well, you're eyes won't be deceiving you if you see Ryan Klesko surfing.
Yes, that Ryan Klesko. He's a SoCal stud who likes to surf - and crush a baseball.
The tragedies of September 11, 2001 only reinforced just how small a world it is after all.
Many baseball fans sometimes forget players and personnel of Major League teams have ties to the armed services. We wanted to take a survey to see just how much of an impact the armed services has on a typical baseball workplace.


MODERNERA DREAMIN' OF "THE SHOW"

Ah, minor league baseball, where one can only dream of "The Show." When you're a minor league baseball player you have only one motivation: Get to "The Show."
"The Show," as was eloquently portrayed in the baseball film, "Bull Durham," starring Kevin Costner, is - of course - the major leagues.
And baseball fans don't have to travel far to catch their favorite team's future stars, who will likely be in "The Show" within the next few seasons.

MODERNERA BEHIND THE SCENES
What's it like being an equipment manager in the big leagues? We asked a 30-year-veteran, of course.

MODERNERA COASTAL CALI ROAD TRIP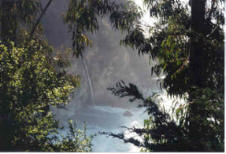 Headed to the Earthquake State for a ballpark tour? Well, Cali's got you covered with some wicked smooth rides, including CA-1, the coastal road that will take your breath away.
Don't forget the camera on this road trip detour between SoCal and NorCal because it's the picture-perfect jaunt between San Diego, Anaheim and/or Los Angeles to San Francisco and/or Oakland.
Are you planning a Midwest tour to Cleveland, Pittsburgh or Cincinnati? Then if you even like American football just a little bit, we reserve the right to tell you to go to the National Football League Hall of Fame Museum in Canton, just outside Cleveland.
Sure, we're a baseball site, and we do feature baseball museums. But believe us when we tell you, this isn't one to pass up.


MODERNERA BALLPARK TOUR INSPIRATION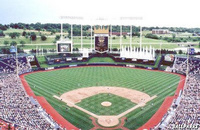 For many, a ballpark tour is a lifelong dream. Dreams of watching baseball's best in the game's grandest cathedrals remain until the dream has become reality, as do memories of your first catch - or big hit.
Need a little inspiration to plan your ballpark tour? Remember the infamous Les Nesman "outfield scene" from the television series "WKRP in Cincinnati"? Well, let one of our troops explain.


MODERNERA BALLPARK GUIDE EXCERPTS!

"A Fans Guide To The Ultimate Ballpark Tour: Fully Loaded!" is on sale indeed, and it enables fans to maximize a ballpark tour! Fresh off the success of "A Fans Guide To The Ultimate Spring Training Experience," this latest guide provides all the information fans need to make the most of their ballpark trip - right at their fingertips!
Review excerpts of "A Fans Guide To The Ultimate Ballpark Tour: Fully Loaded!" right here, or better yet, view a sample of the guide!
Decisions, decisions, decisions…where should I sit, Joe? The Coors Field purple row at 5,280 feet above sea level, the upper deck at Pac Bell with sweet San Francisco Bay views, or down by George Will, Billy Crystal and the chums behind the dugout?
Well, fellow ballpark nerd, securing field level seats isn't easy pickings at many a yard when you consider season ticket holders often grab these bad boys. Plus, the seats aren't exactly cheap either. And so NOW you understand why you've come for help…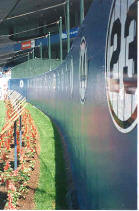 Say what you want about Bud "urban ballpark" Selig, but his insistence on teams securing new downtown pads does have its benefits. For starters, no longer do fans have to be limited to confining their pre-game rituals to a six pack of Budweiser in a stark parking lot next to a gigantic concrete mess of "a ballpark."
Yes, believe it or not, we've made progress - and all thanks to Bud man, of course. But what pre-game rituals do the locals practice at baseball's major league ballparks? Find out how to get in on the action…