Related Articles
(Sorted by topic similarity...)

Tony's Tea at Giuseppe's
The di Marcos are a large, extended Italian family who run a restaurant in Walford which competes with the Queen Vic. Tony Hills tries to ingratiate himself with them and winds up at a typical meal with a bewildering array of di Marco faces. Find out who they are.

Temptation Island 2, Episode 4: Surprises But No Real Action
Gen thinks the game is over for her -- but Ed has other ideas. This is just one of the surprises as two tempters and temptresses are tossed and another round of dates ensues.

Temptation Island 2, Episode 5: Scandal Rocks the Island
A "scandal" rocks Temptation Island 2. What could it be? Did Tony have sex with a waitress? Were he and Gen secretly married before their trip? Or could it be worse than that? Might they actually *gasp* be in love with one another? Plus, lots of tears and laughter, sometimes during the same scenes.

MODERNERA HERO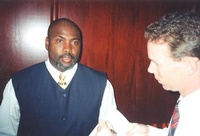 They say he's too old. They say he's too slow. And they say he's too fat.
They're some baseball critics – and they're some bunch of idiots!
Tony Gwynn is arguably the best hitter ever to play this game - a class act and a true Modern Era hero to fans, young and old. With his ticket already punched for the Hall-of-Fame, the eight-time batting champ is looking to rebound from an injury-riddled 2000 season.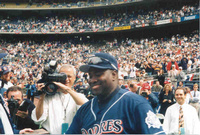 With his knee shot, Tony Gwynn was relegated to mostly a pitch-hitting role in 2001.
Not a problem for Batman, who at one point was batting .500 as a pitch-hitter. We decided to let Tony do what does best besides hitting – talk hitting – and caught up with him after he drove in the winning run in a game this past season.


Tony The Grrrreat
After last season,Tony Gwynn called it quits after playing his entire career with the San Diego Padres.One of baseball's best hitters ever,Gwynn continues to work in the San Diego area doing what he loves.

Application to Tony Blair
Tony Blair recently swept to re-election as Prime Minister in Great Britain. Indeed, his margin of victory was of historical proportions. Then his troubles began.

Love Cruise, Episode 2: Trouble in Paradise

In this second episode, the guys get to choose who they will pair up with. Well, at least they choose a cabin-mate - it seems that at least one of the women has a mind of her own when it comes to picking who to spend time with. And we are introduced to the Switch Card, a form of immunity.

Dr. Tony Kern, Lt Col, USAF (Ret) letter to Americans
Retired Lt. Col, Tony Kern shares his thoughts on what America has to do to win the war on terrorism.

BRITISH PRIME MINISTER TONY BLAIR RELEASES EVIDENCE OF BIN LADEN'S RESPONSIBILITY FOR SEPT. 11 ATTACKS ON AMERICA
British Prime Minister Tony Blair released evidence to the general public on Thursday, Oct. 4, 2001, that clearly shows Bin Laden to be responsible for the attacks on America.

Author Tony Hillerman Writes His Own Story
Tony Hillerman survived the Depression, the loss of his father at age 16, WWII, life as a crime reporter, and eventually became a well-known mystery novelist. Now he tells his own story in Seldom Disappointed: A Memoir. Is the tale revealing or is it a bit, well, disappointing?

Who is Ralphie Ciffereto?


Ralphie Ciffereto (Joe Pantoliano) surfaced as one of the shows bad boys in season three. Who is Ralphie? According to the FBI, Ralphie is a violent psychopath with a history of assault and petty crimes involving acts of physical violence. He is divorced from ex-wife Patti by whom he has two sons. Ralphie is an old member of the Aprile crew and has recently returned to New Jersey after "laying low" in Florida. He is also a good earner for Tony Soprano, the new boss of the late Jackie Aprile's old crew. Since Jackie Aprile has died of cancer, Tony Soprano has taken over...
MODERNERA ROAD TRIP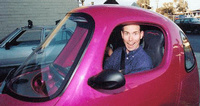 He's hit every Major League Baseball ballpark and spring training facility, the Pacific Coast League, California League, Hall of Fame, Nolan Ryan Museum, College World Series, Field of Dreams and the Cape Cod League, among others. Now what?

NUCLEAR WEAPONS ATTACKS COULD BE NEXT, WARNS TONY BLAIR
British Prime Minister Tony Blair warns of nuclear attacks in the face of Sept. 11's attack on America.

Theres Always Hope for Boxing
Is there hope for boxing? It's a question that always seems to rear its ugly head for me at this time of year. I always ponder that question when I make my yearly pilgrimage to the induction weekend at the International Boxing Hall of Fame.


TONY'S CHRONICLES
Follow the career of a 14-year-old amateur boxer as he tells us what it's really like to lace em'up and compete.

MODERNERA AL-LEAST


The All-time teams for the Orioles, Sox, Yanks, Jays, and – yes – even Devil Rays.
We had fun with this. We think you will too.
You'll never find Rickey Henderson starring in a Coors TV spot, but love him or loathe him he's an "original" all right!
"Oh, Rickey! You're so fine! You're so fine! You're so fine! Oh, Rickey! Oh Rickey!"


MODERNERA THANKS
This Sunday will mark the end of an era in San Diego.

MODERNERA LE-GO MI PEDRO!

Only in 2001 can Pedro Martinez be given a warning for grazing a batter - WITH A FREAKING CURVE BALL! How did the game stoop to this utter mess? By licensing Barbie Doll, that's how! Learn more about this disgrace to our past time.