MODERNERA TREVOR TIME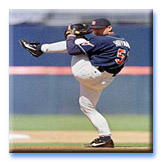 Some professional athletes tend to shy away from the public eye, choosing to focus all of their energy on perfecting their craft and devoting time to their family.
But Trevor Hoffman, the closer for the San Diego Padres, doesnít stop there.
MODERNERA PREDICTIONS

When the second half of the season began, the Yankees, Twins, Mariners, Phillies, Cubs and Diamondbacks led their respective divisions.
If history is any indication, itís unlikely all six will be in the same position October 2 when the Division Series is scheduled to begin.
Letís play process of elimination, kids.