Compare mortgage companies to find the best deal

Trying to buy your first home and don't know where to turn for information? Check out HomeLoanReviews.com, a site that researches and compares six popular home lenders to help you decide which one works best for you!

On the site, you'll find all sorts of valuable (and free!) resources, such as a lender/broker/rate "search engine". They take your online information, search for the best home loan available, then have several lenders or brokers contact you directly. This service allows you to compare the mortgage rate of several companies while only filling out one form. These companies will put you in touch with lenders who can finance your next home mortgage or home equity loan. Most offer online resources to help you calculate payments ahead of time to get a ballpark figure of how much you can spend. If you're in the home buying market, check out one of the mortgage rate "search engines" listed below - they can save you time, but most of all money!

Maybe you'd rather contact a lending institution directly to finance your next home mortgage or home equity loan. Go to one of the six resources listed on HomeLoanReviews.com to check out a mortgage rate for your next home loan. These companies make home buying quick and easy, some will even give pre-approval in less than half an hour.

When it comes to home buying, a little bit of research can save you a whole lot of money! So do your research first, and start with the 100% free resource website, HomeLoanReviews.com. Click here for the site.

Copyright 2001


Back to modernerabaseball.com:
MODERNERA SKIPPER

There are few givens in life but here's one of them: If Dodgers skipper Jim Tracy isn't Manager of the Year, then the apocalypse really is upon us.
MODERNERA DUQ

Duq or no Duq?
As we learned June 15, it's to Duq - for at least two more years. After speculation that Sox GM Dan Duquette might be headed west, the Duq is staying put in Beantown for now. Get one Chowdaheads perspective on the Duq.
MODERNERA BIG BEN
Ben Davis knows all about expectations. Now he's starting to live up to them.
MODERNERA ORTIZ

One's a Ramon, the other's a Russ.
But either way you slice and dice it, there two of the baddest, up-and-coming flame-throwers around today.
Learn why the unrelated Ramon Ortiz and Russ Ortiz have so much in common.
MODERNERA THANKS
This Sunday will mark the end of an era in San Diego.
MODERNERA HERO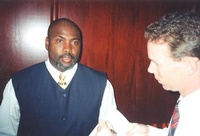 They say he's too old. They say he's too slow. And they say he's too fat.
They're some baseball critics – and they're some bunch of idiots!
Tony Gwynn is arguably the best hitter ever to play this game - a class act and a true Modern Era hero to fans, young and old. With his ticket already punched for the Hall-of-Fame, the eight-time batting champ is looking to rebound from an injury-riddled 2000 season.
MODERNERA FISH TAILS

They play before a measly crowd of 10,000 fans in their own yard, have played under two managers, dealt with "contraction" rumors, the Cliff Floyd All-Star Game circus, and managed to overcome key injuries, bad luck, and personal tragedy.
And yet, wouldn't you know it, the unexpectedly contending Marlins continue to play more like the mosquitoes – Florida's real native son – and refuse to give up on the wild card and National League East chase.
What'd think, they'd flop? Nah.
MODERNERA KIDS GAME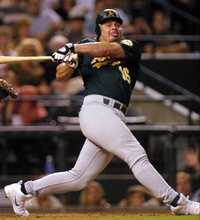 Rumors circulate that 2000 American League MVP Jason Giambi might be dealt.
"Jason, your thoughts?"
"Having a great time and not worried about it," says the slugger.