RECEIVE OUR NEWSLETTER!


Home
Article Archives
Tell Your Friends
About Us
Scouting Report
Modern Era Feedback
Team Up
Subscribe

"For a certain amount of money, you'll eat Alpo." -"Mr. October," Reginald Martinez Jackson.
What's your favorite baseball quote? Let us know by visiting "Scouting Report" and chiming in!


Modernerabaseball.com is a new, fast-growing and truly unique Web site for Major League Baseball (MLB) fans.
The five-month-old, fan-based site has quickly won the hearts of MLB fans by consistently delivering the most captivating and compelling ModernEra stories, insight and perspective found anywhere on the Web.
Written by fans for fans, modernerabaseball.com tugs at your heart by capturing the essence of the MLB experience - the dignity of the game and the drama and soul of its ModernEra ballparks and characters.
Its creator is Joe Connor, who has covered the San Diego Padres for the past three seasons and visited every MLB ballpark and spring training facility. With access to the game's top players, managers and ballparks, Joe is able to provide modernerabaseball.com fans with stories they won't find anywhere else.
He has dedicated the site to his late father, Joe Sr., who was his guiding light to baseball and a big baseball fan. That fan-based emphasis is at the crux of the growth of modernerabaseball.com. Fans contribute to the site's content and modernerabaseball.com always welcomes new submissions via the "Scouting Report" link.
modernerabaseball.com is definitely making waves. Joe has been a guest on ESPN Radio in Chicago, The Ticket in Dallas, XTRA Sports, KOGO, and many other news outlets.
Joe grew up in the booming metropolis of West Hartford, Conn., U.S.A., where he played little league and summer ball from adolescence through high school.
His Dad was there to watch his games and Joe was also the bat boy on his father's slow-pitch softball team for many years. His Dad was a pitcher on the squad whose uncanny skill and craftsmanship from the hill led the Peter Pan Cafe to championship victories.
Joe says he still fondly recalls Queen's "Another Bites the Dust" playing on the jukebox while beer stench permeated the air in the small bar after winning those titles. Poor Mom was just hoping her little boy wasn't having too much fun so he could complete his homework and still function at school the next day!
Rest assured, Joe's celebratory fiesta wasn't a monster brewski but rather a big fat juicy hamburger with lots of pickles and ketchup - and a Coke and a smile!
Joe is still rooting for the Boston Red Sox, hoping (and praying daily) that one day Beantown and the Chowdaheads will celebrate a World Series title.
A FANS' GUIDE TO...THE ULTIMATE BALLPARK TOUR
You want to visit as many ballparks as possible, but only have so much time. "A Fans' Guide To…The Ultimate Ballpark Tour" provides tips on how to visit as many ballparks as possible in as short a timeframe as possible, plus other great information!
Special thanks to Brian THE GOD and Lisa THE QUEEN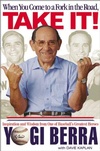 When You Come To A Fork In The Road, Take It!
Want to learn more about a true, original Modern Era Character? Click here and you'll be directed to Modern Era bliss. Yogi Berra truly IS the man. This - mind you - coming from a diehard Red Sox fan for the love of Pete!