"When Connecticut-born Joe Connor says Fenway is the world's best baseball stadium, he's not being a homer. The freelance baseball writer has something to go on. This baseball denizen…has seen all the professional baseball parks in the Dominican Republic, Puerto Rico and Japan. Connor...gives examples of how the working person can do it on a middle-class budget." – Boston Metro on "A Fan's Guide To The Ultimate Ballpark Tour: Fully Loaded!"
"Thank you for your great tour guide to all of the baseball parks. We have been using your guide every step of the way. It is extremely helpful." – Traci, Lake Forest, California
"Your guide was very handy – not only info about the park, but about the surrounding area, sights, restaurants, etc. THANKS for the help!" – Jacqui, Fort Worth, Texas
"Excellent work!! Your guide is a great piece of work. It's very informative. Thanks again for a wonderful product." – Chris, Omaha, Nebraska
"Heard you on a San Diego radio station with "The Coach." Next time, please repeat your Web address more than once. I was driving and couldn't write it down :-) Darn near crashed trying to find a pen and napkin!" – Karl, Los Angeles
JOE'S FAVORITE: FENWAY PARK
OLDEST BALLPARK IN MLB, IT'S JOE'S NO. 1
In 2012, the Marlins opened their new digs in Miami. 2010 saw Target Field open in Minneapolis while the two New York teams christened new cathedrals in 2009 and the Nationals in 2008.
A Fan's Guide To The Ultimate Ballpark Tour: Fully Loaded! has all the information you need to plan your ballpark trip, from where to sit and what to eat to what mascots to look out for, what radio stations and broadcasters to listen to, and what characters – from ushers to fans – that make each ballpark unique. This page has some additional news on Major League ballparks, while the guide has all the planning details, including all the planning tools – right at your fingertips. You can learn more at the About Joe's Guides page.
So many new ballparks have been built in the last 20 years, there frankly aren't that many teams left to say they need a new one! Most new ballpark projects open at least one or two years after their initial intentions are disclosed simply because they are enormous efforts. Without further adieu then, here are "the few; the proud; and the remaining" clubs that have a ballpark older than 1992 (when Camden Yards opened) and what their prospects are for the future (American League teams below left; National League clubs, below, right).
AT PNC FOR THE ALL-STAR GAME IN 2006
BIG JOE HAS BEEN TO ALL 30 MLB PARKS AND CAN HELP YOU PLAN YOUR TRIP
Below's a sample of what the guide looks like when you open it. See the listings on the left hand side (below)? You can click on any team and easily "hop" to that ballpark, instead of having to scroll past endless pages!
Sample How Easy Joe's Guides Are To Use! You Will Need Acrobat Reader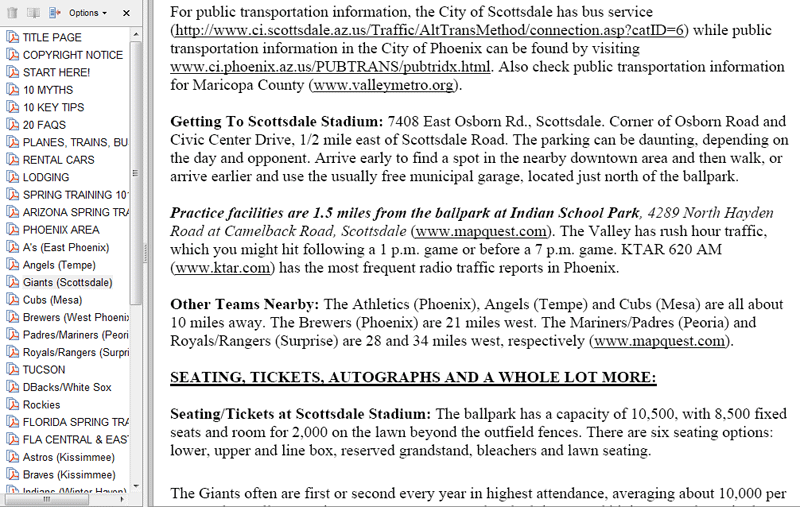 BEWARE THE BLEACHER CREATURES...
...AT THE HOUSE THAT RUTH BUILT

AMERICAN LEAGUE'S OLDEST YARDS:

Boston's Fenway Park, opened 1912: The Red Sox continue to refurbish and make the most of the oldest ballpark in the Majors, adding new seats and improving other aspects of the field and ballpark each season. Will there ever be a "new Fenway?" No. The Red Sox have determined a new ballpark isn't worth the hassle. The cost of land in Boston is incredibly expensive and Red Sox fans were hesitant to depart with Fenway. So Fenway will long remain the oldest and best ballpark for years to come. Thank Goodness.

Tampa Bay's Tropicana Field, opened 1990: Up until recently, not many fans in the Tampa Bay-St. Petersburg region gave a hoot about the once lowly Rays since they debuted in 1998. It hasn't been easy for new owner Stuart Sternberg to resurrect the dead, but then again, the franchise can only get better. In the short-term, Sternberg's gang is doing everything it can to make the Trop more fan-friendly, even if it will always be the Costco of Major League Baseball. Long-term, they'd like to build a new ballpark in Tampa. Stay tuned.

Toronto's Rogers Centre, opened 1989: When the Blue Jays have a proven winner, fans show. When the Jays don't, they really, really don't show. The new ownership group has enhanced the ballpark experience, but one thing is certain: they've got to start filling some seats, and not just in the summertime when hockey season is over, if they're going to compete long-term.

Chicago's U.S. Cellular Field, opened 1991: The White Sox got it so bad with their new ballpark in 1991 that they later inked a naming rights deal with U.S. Cellular to fix parts of the original mess, like an upper deck that used to give fans instant vertigo. Sox fans seem pleased with the improvements, and the franchise isn't going anywhere else anytime soon.

Kansas City's Kauffman Stadium, opened 1973: One of the smallest and most underrated fan-friendly ballparks in baseball may still look as new and as pretty as it did when it opened in the Nixon Administration, but the Royals claim the place needs some love for them to stay put. Voters, however, didn't see it that way in November 2004 when they opted not to support funding for improvements. A similar ballot measure on the April 2006 ballot proved a winner however, so "The K" got some TLC which the fans witnessed in '09.

Oakland's Coliseum, opened 1966: Oakland taxpayers rebuilt a basketball arena not too long ago, and a lot of the city could use money to spruce up many parts of its rundown confines and not a new ballpark for millionaires. The A's have struggled to find a solution.

Anaheim's Angel Stadium, opened 1966: Although it opened the same year as the Coliseum in Oakland, Angel Stadium feels new, thanks to a renovation after the football Rams bolted town for Saint Louis. The Athletics don't have that luxury, with the Raiders sharing the Coliseum. The "Los Angeles Angels of Anaheim" seem happy with the renovations. But owner Arte Moreno has flirted that without upgrades, he may bolt to another location for greener pastures in, ahem, "Orange County, California."

THE NATIONAL LEAGUE'S OLDEST YARDS:

Chicago's Wrigley Field, opened 1914:

Despite concrete coming down in 2004 (along with yet another disappointing Cubs season), there are no plans to build a new ballpark for the Cubbies. In fact, the Cubs are poised to follow the Red Sox model of maximizing the old yard. More bleacher seats are being added, and other improvements have been made. Like the Yankees and Red Sox, the Cubs benefit from a large television contract for their revenue.

Los Angeles' Dodger Stadium, opened 1962: Hard to believe, but the beautiful ballpark on the hill above downtown Tinsel Town is now the third oldest in the Majors. It still looks brand new, and despite a lot of speculation, it's hard to imagine the Dodgers new ownership mounting a new ballpark campaign anytime soon. Judging by their actions, it appears the Dodgers are also following the route of the Red Sox and Cubs in upgrading their existing ballpark every year.

Braves New Stadium: In the tales of the "Galatically Stupid" category we have the Braves who smooth-talked their way into convincing Cobb County, Georgia to help them build a new ballpark in the suburbs of Atlanta without a vote of the citizenry. How American! There's nothing wrong with Turner Field, except, of course, the rich people live in Cobb County, not downtown Atlanta. And Atlanta traffic? Well, if you've been there, you know it's real bad. Enough justification? I think not. But I do not matter into the discussion, and apparently, neither does the silent majority. New ballpark targeted to open in 2016.

WHAT MIGHT HAVE BEEN FOR MONTREAL
A BROCHURE TOUTING A DOWNTOWN BALLPARK IN THE ISLAND CITY

THOSE WERE THE DAYS: ENRON AND THE ASTROS
X-'STROS BOSS DRAYTON MCLANE POSES WITH KEN LAY BEFORE ENRON'S COLLAPSE

LONG LIVE HARRY: LEGACY REIGNS AT WRIGLEY
NO TRIP COMPLETE WITHOUT A VISIT TO THE FRIENDLY CONFINES TO SOAK IN TRADITION, THANKS TO CARAY
What's included in: A Fan's Guide To The Ultimate Ballpark Tour: Fully Loaded!

- Planning details to maximize a ballpark trip of any length to any Major League Ballpark, minor league ballpark, and independent league ballpark! Features ballpark information in every North American city in the U.S. and Canada!

- Planning resources to any ballpark city, including local airline, rental car and hotel information, plus public transit options and seating/ticketing information with Web links to every team to buy tickets online, review ballpark seating maps and schedules.

- Complete details on exploring any ballpark city - from local attractions to hiddens gems and places off the beaten path.

- Personal recommendations and suggestions from Joe on the best ways to maximize your trip based on his own experience.

- Free e-mail advice from Joe to help you plan your trip!
Since 2001, Home of Joe Connor's Highly-Acclaimed Ballpark Guides! © Copyright 2018 ModernEraBaseball.com. All rights reserved